With the launch of the Raspberry Pi 4 today, we can confirm that this latest exciting addition to the Raspberry Pi family is fully compatible with BitScope Micro, Mini and BitScope Blade Uno and Duo. It can be used with Quattro too, but only using three slots due to power contraints. However, we have an update for this coming soon!
It can be used in BitScope Blade packs, racks, modules and clusters in the same way as Raspberry Pi 3+ but it offers a range of significant improvements including a three times processing performance boost, four times the graphics performance with support for dual 4K screens, Full Gigabit Ethernet, Dual band WiFi and like its predecessor, support for Power Over Ethernet (PoE).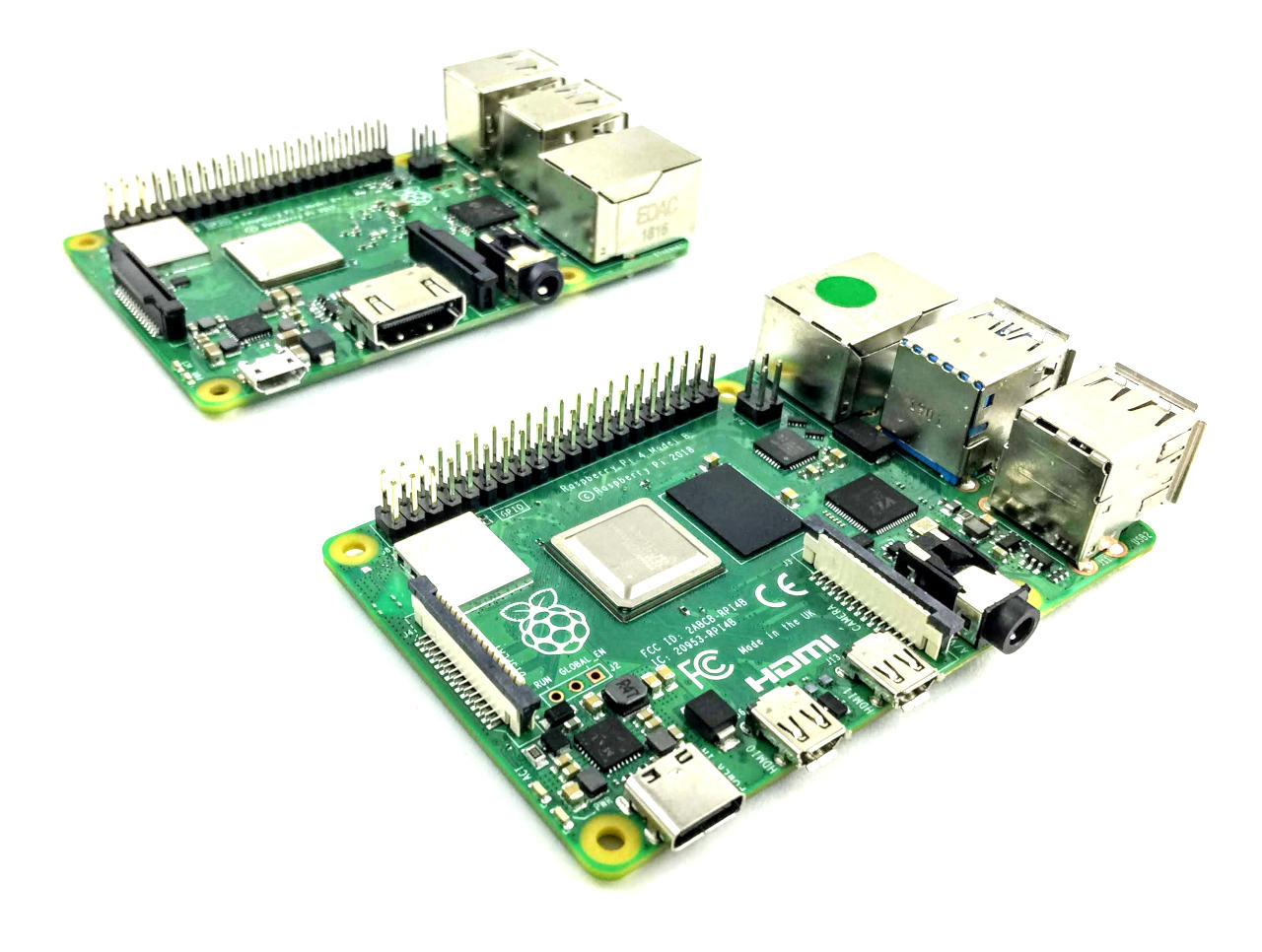 Seen here is the new Raspberry Pi 4 with the previous Raspberry Pi 3B+ behind it.
At first glance there seems to be little to pick between them. From a physical point of view they almost the same.
This is a very good thing.
It means that where ever you might use a Raspberry Pi 3B or 3B+ you can also use a Pi 4. In almost all respects that matter it is a drop in replacement but with its Broadcom BCM2711 quad-core Cortex-A72 (ARM v8) 64-bit SoC running at 1.5GHz and huge performance gains in graphics and I/O it's streets ahead.
While this new Raspberry Pi looks great and is, in our humble opinion, very nicely designed and manufactured it's what you can't see that makes all the difference.
To this end we have been testing this new "slice of Pi" for quite a while to discover all the nooks and crannies and we're very impressed with the improvements the Raspberry Pi team have managed to pack in.
Taking Raspberry Pi 4 for a Test Drive
Of course we used BitScope Blade to power and mount these new Raspberry Pi, just like we do for every Pi.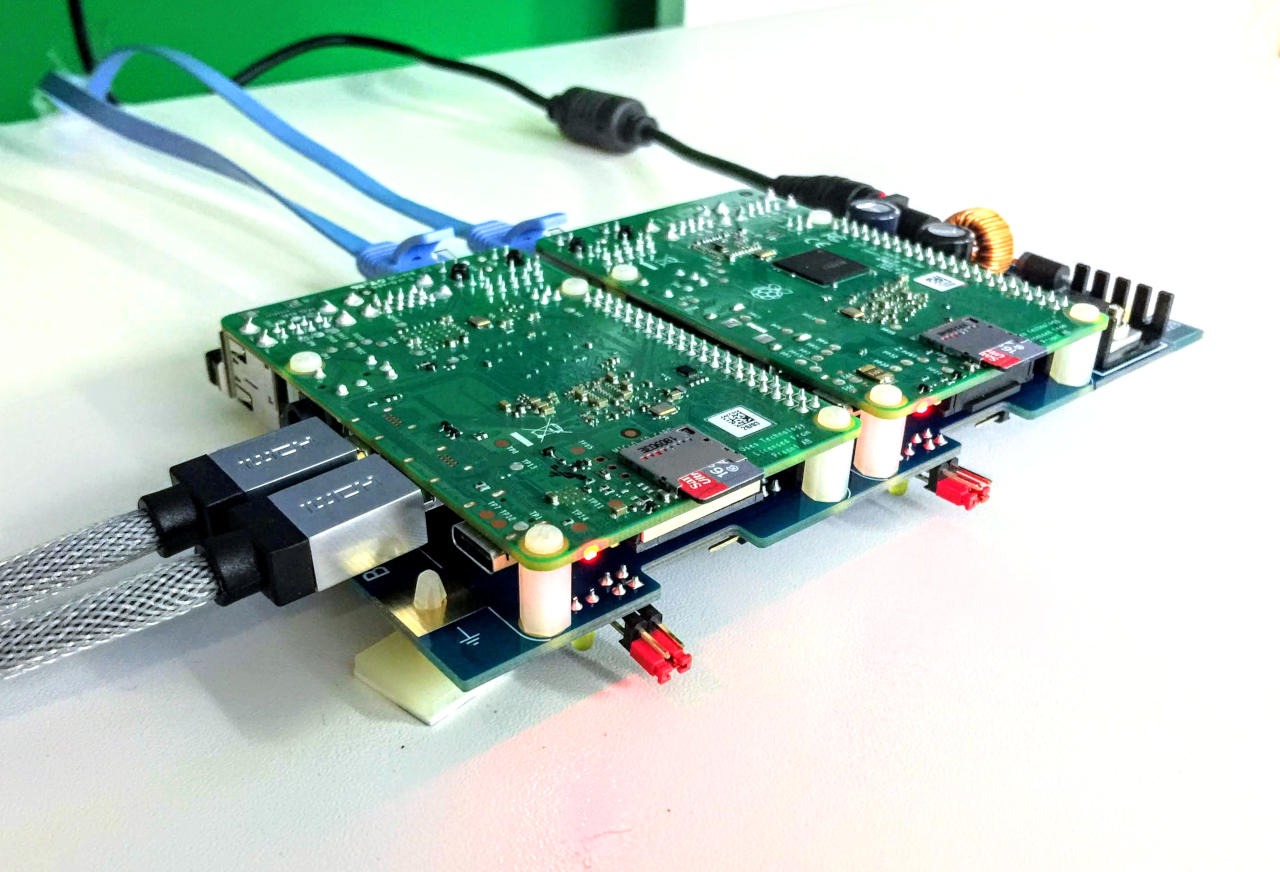 Here are two Raspberry Pi, a 3B+ and 4, powered and mounted on Blade Duo. They are configured as redundant server pair each connected to a switch via a short ethernet patch cable with external connection to the Office Internet via WiFi. They are both powered from a single 24V supply.
We've tested a range of configurations including direct connection with HDMI displays, keyboard and mouse and, as one has come to expect, it all "just worked". We'll let others review the Pi4 in detail. Our simple take-away is that we're blown away by its capabilities and performance. Our focus is on on its use in industrial, engineering and cluster applications and we think it will prove to be the best solution on the market for these purposes.
So what does it look like?
Almost the same as previous model really...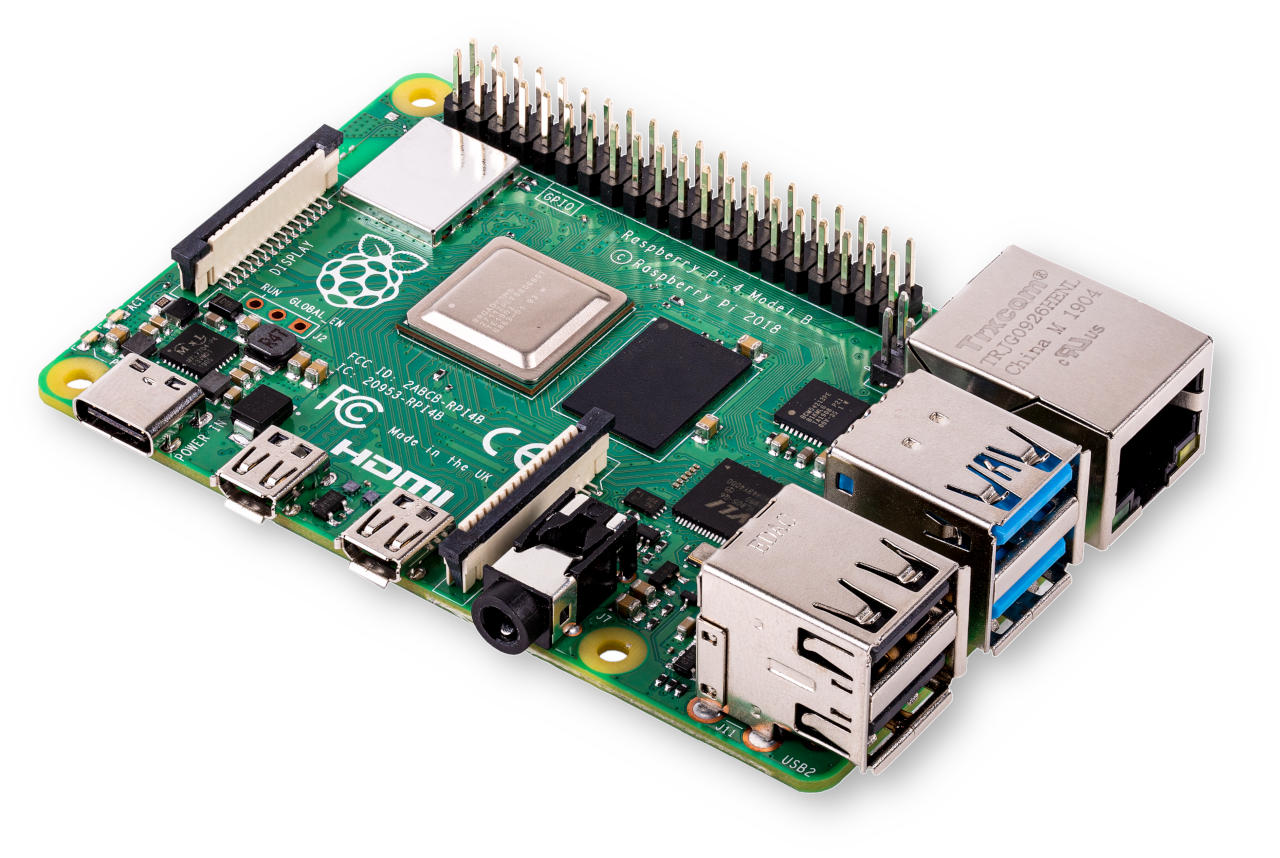 However, three things really stand out: dual mini-HDMI, USB3 and the swapped USB and Network ports.
Dual 4K Screens!
Now this is truly amazing: 2 × micro HDMI ports with up to 4Kp60 supported.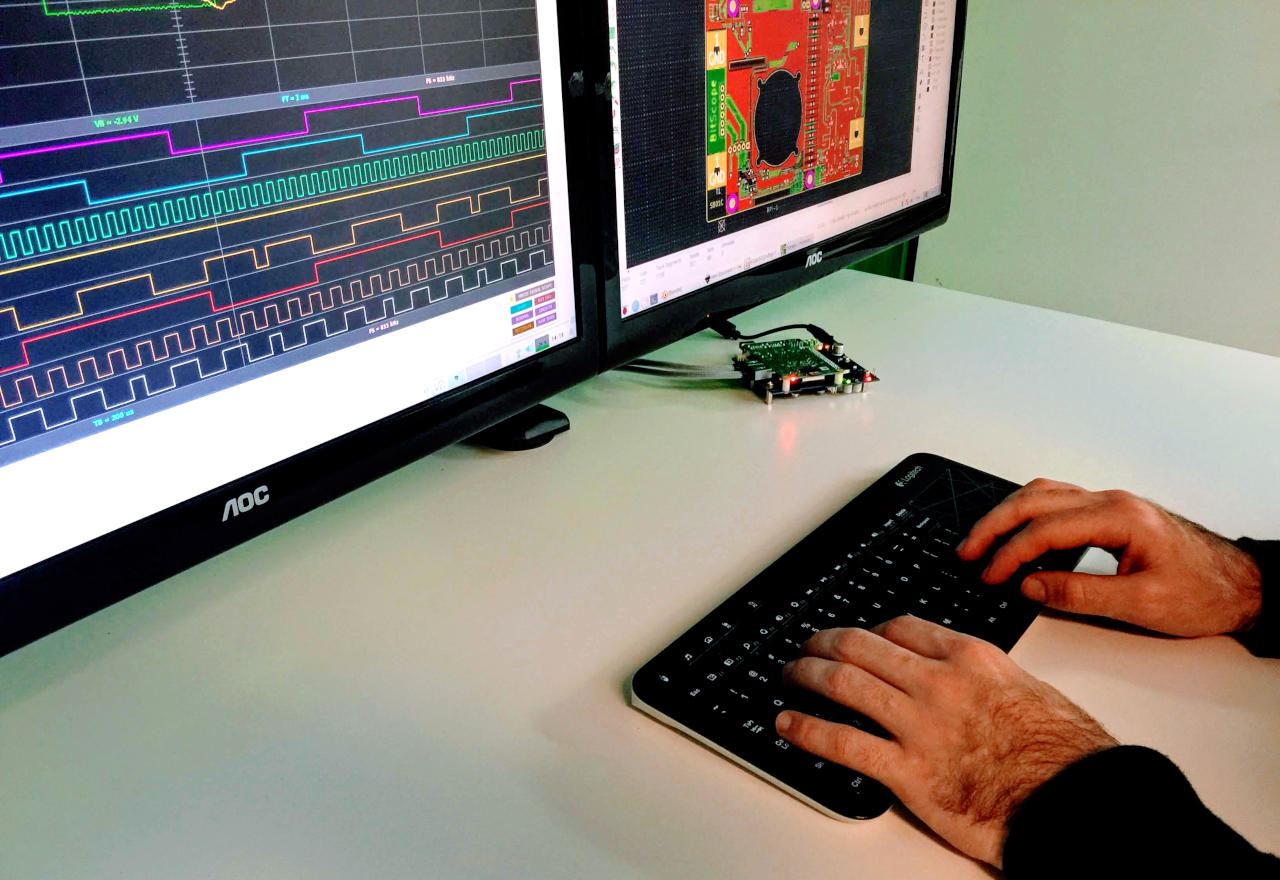 The Pi4's 4K dual-screen capability makes it ideal for thin client applications, engineering workstations or maybe even gaming consoles (who knows what people will do with their Pi 4!). In this example we've powered up Pi4 with two 1080p monitors running KiCAD on the right and BitScope DSO on the left.
And the Raspberry Pi?
It's the tiny board underneath the right-hand monitor. And it's running the show! You'll notice very few wires; only three. One for power and the other two for each monitor connection. The keyboard and mouse are wirelessly connected as is the network connection. A BitScope Micro (used with DSO) is also connected wirelessly (via a Pi Zero W, we'll explain how in a another post). You may also notice the Pi4 mounted on something else...
BitScope Engineering Workstation: Solo Pro/Edge
We were very pleased to be invited to road test the Pi4 earlier in the year.
We quickly realised this model is a game changer because it has more than enough processing capability, graphics performance and I/O speed to qualify as an engineering workstation!
So we set about building a comprehensive workstation solution based on Raspberry Pi 4.
We decided it needed to be small, self contained, easily powered from almost any DC power supply and offering effective cooling for running heavy workloads. Further, we wanted it to support onboard SSD for mass storage, a real-time clock, battery backup UPS, standard HAT expansion cards (of course) and being a BitScope, onboard voltage and current monitoring, and a mixed signal oscilloscope and data acquisition port.
What you see here is the business end of what we've come up with: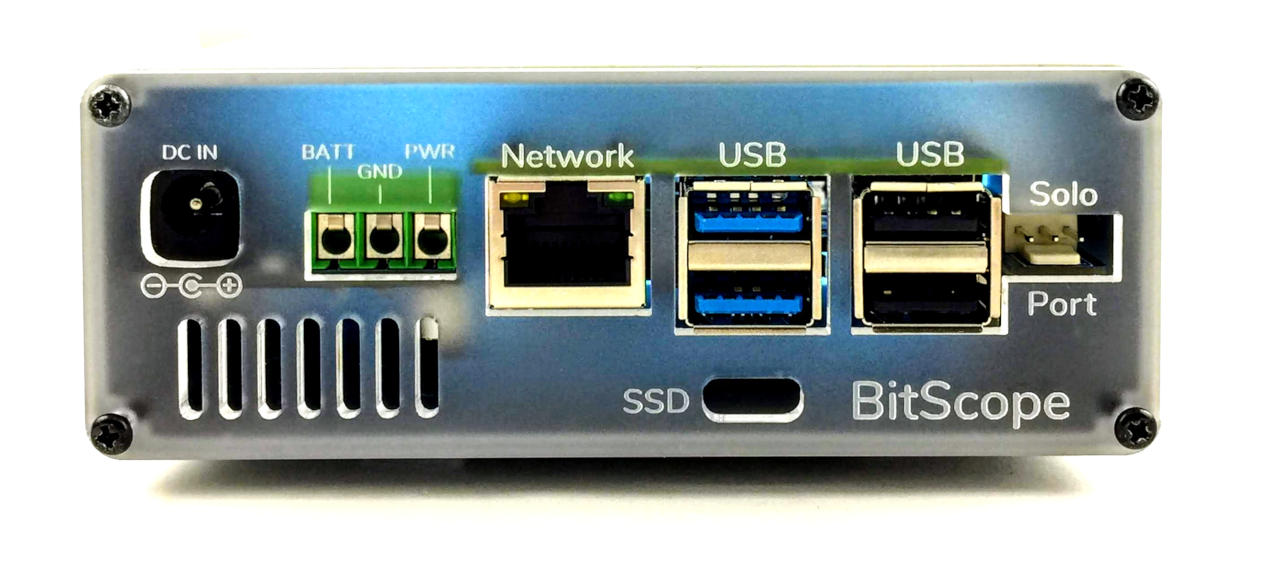 This is what the PCBA looks like inside: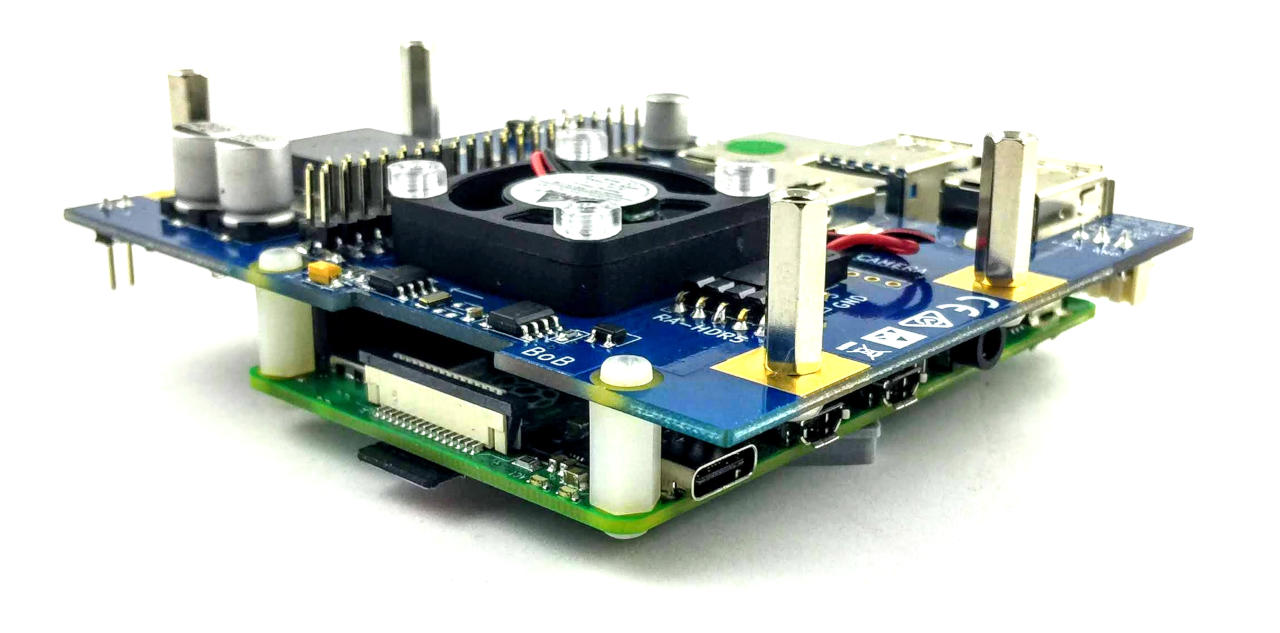 It's a fully functional prototype for our latest product: BitScope Solo Pro/Edge Workstation.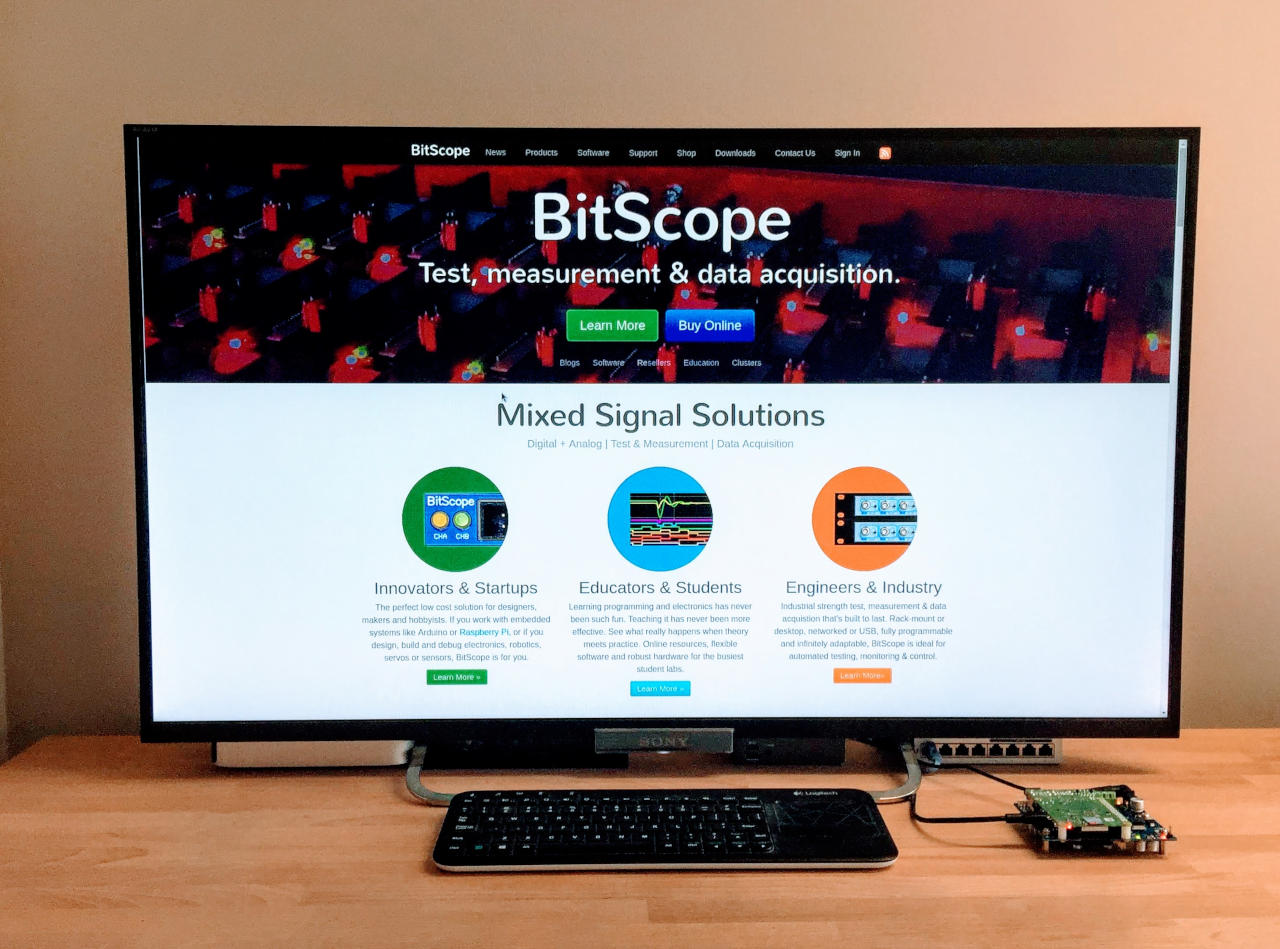 We'll publish full specs and information about it in July. We expect it to be in production in August and available shortly afterward. If you'd like to know more about Solo please register with us.
JK34A